EVENTS AND NEWS
---
Current Exhibition
Audra Wolowiec: Concrete Sound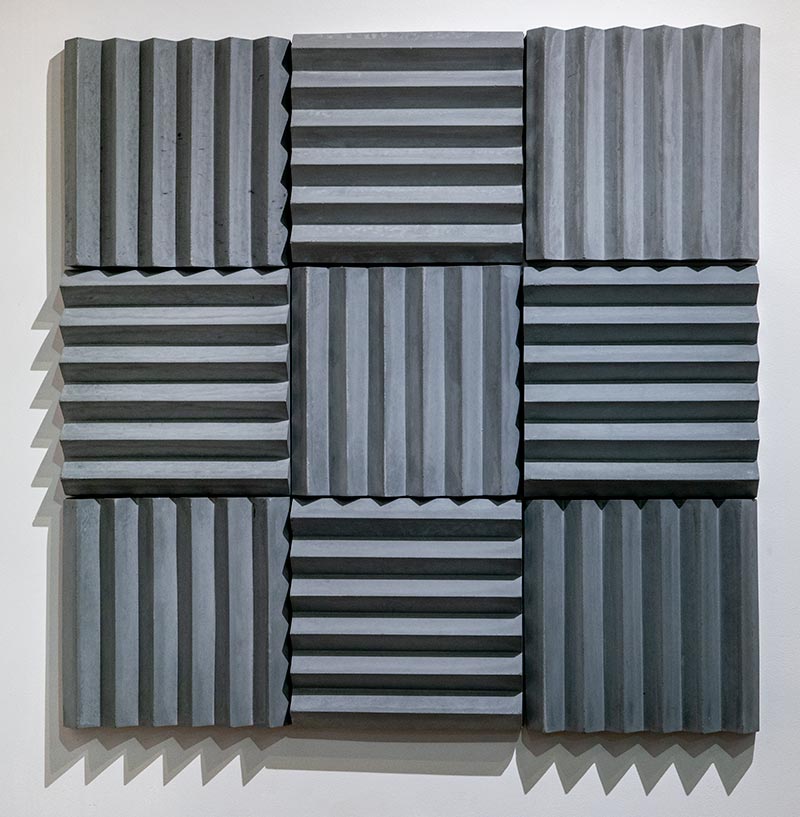 exhibition information
---
UPCOMING PERFORMANCES
Sheng-Ching Hsu, Yueh-Tzu Lin, Mohamed Shams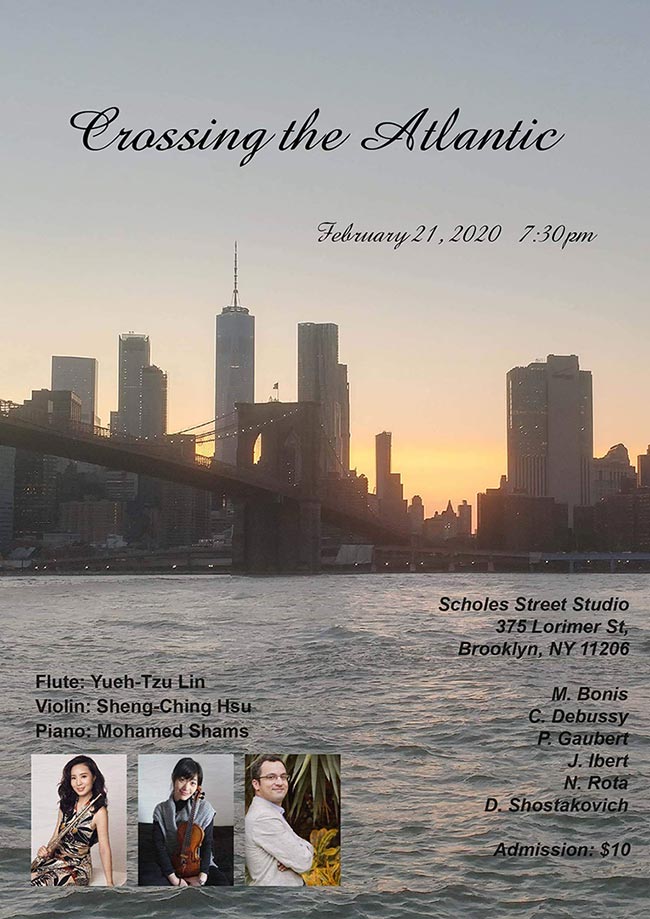 February 21, 7:30pm
---

Tatev
Samn Johnson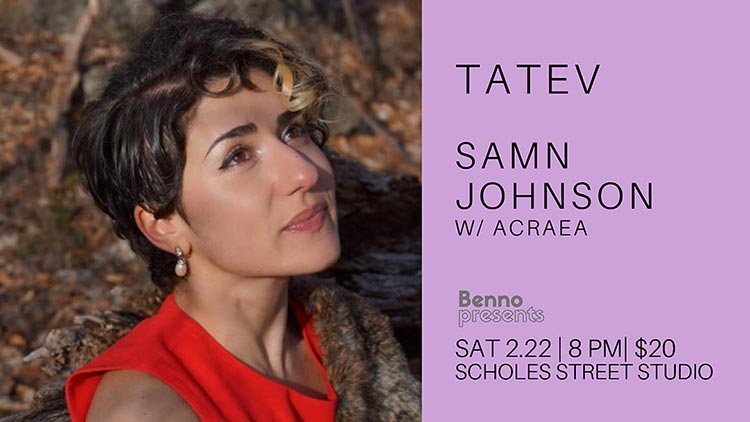 February 22, 8pm
fbevent
eventbrite
---
Anti Social Music
Solo premiere performances
Jen Baker
- Harmonica Song for 2016 (performed by
Roberta Michel
)
Ty Citerman
- Sorcery and Sedition for solo guitar (performed by Ty Citerman)
Will Holshouser
- Twelve Statues in the Snow for solo accordion (performed by Will Holshouser)
Brad Kemp
- Transparencies for solo electric bass and electronics (performed by Brad Kemp)
Eyal Maoz
- Aliya for solo piano (performed by
Dorothy Chan
)
Pat Muchmore
- Fr.XVIII.ƒ(ƒ(x)) for solo cello (performed by Pat Muchmore)
Barry Seroff
- As Magnets for solo guitar (performed by Barry Seroff)
February 23, 7pm
---
Chase Kuesel Trio
Hannah Marks Quintet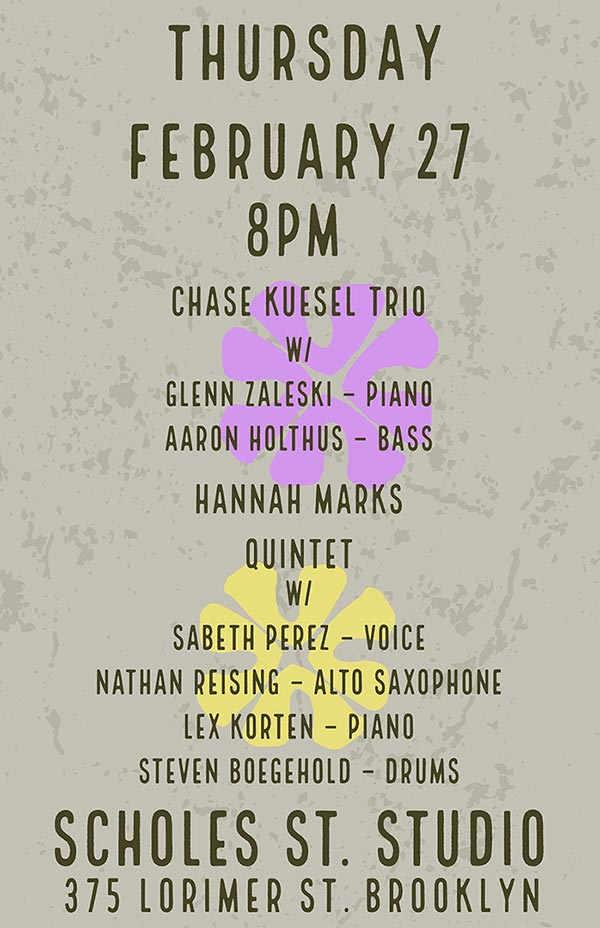 February 27, 8pm
---
The Thicket
Thicket 11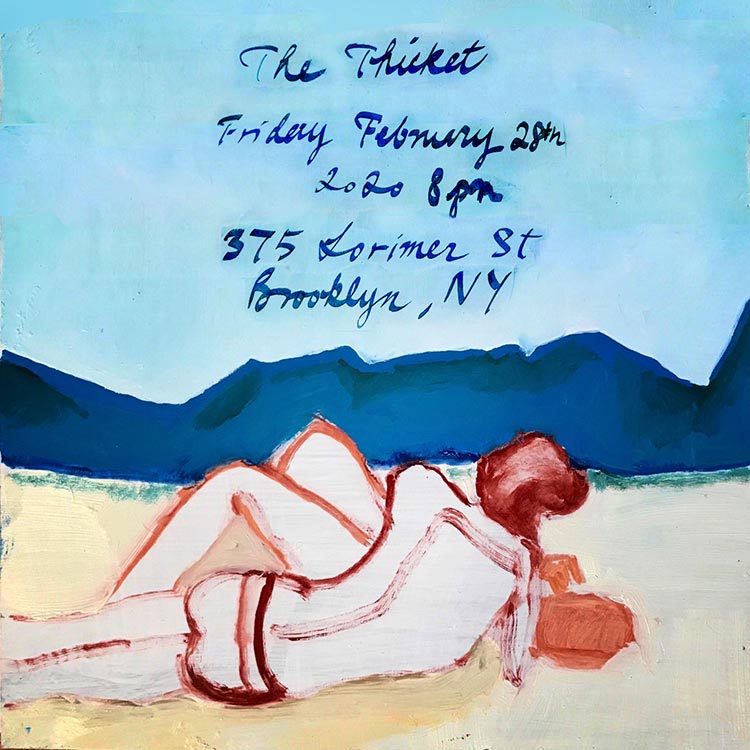 February 28, 8pm
---
Blaise Siwula, Nicolas Letman-Burtinovic, Jon Panikkar
SEDITION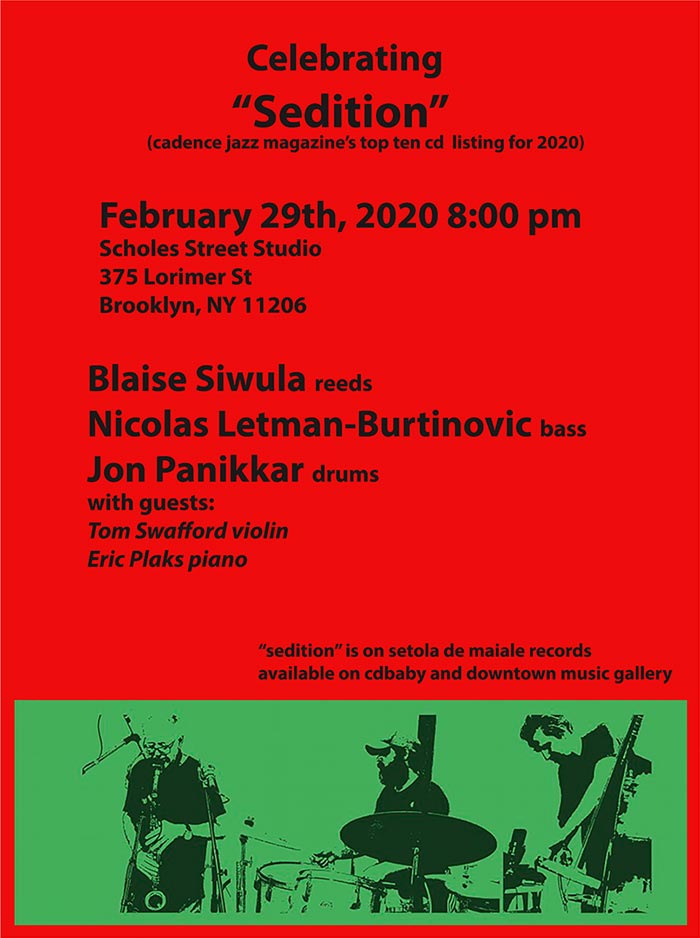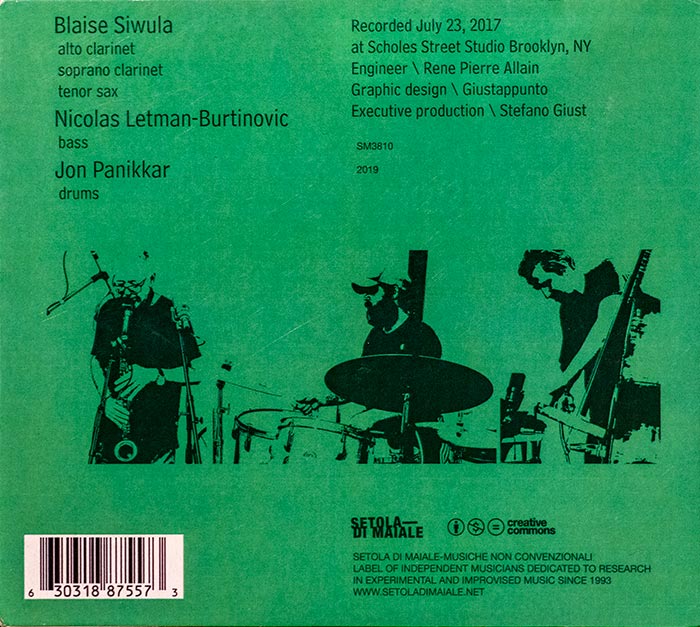 February 29, 8pm
---
Kazuki Yamanaka
Improvisor Gathering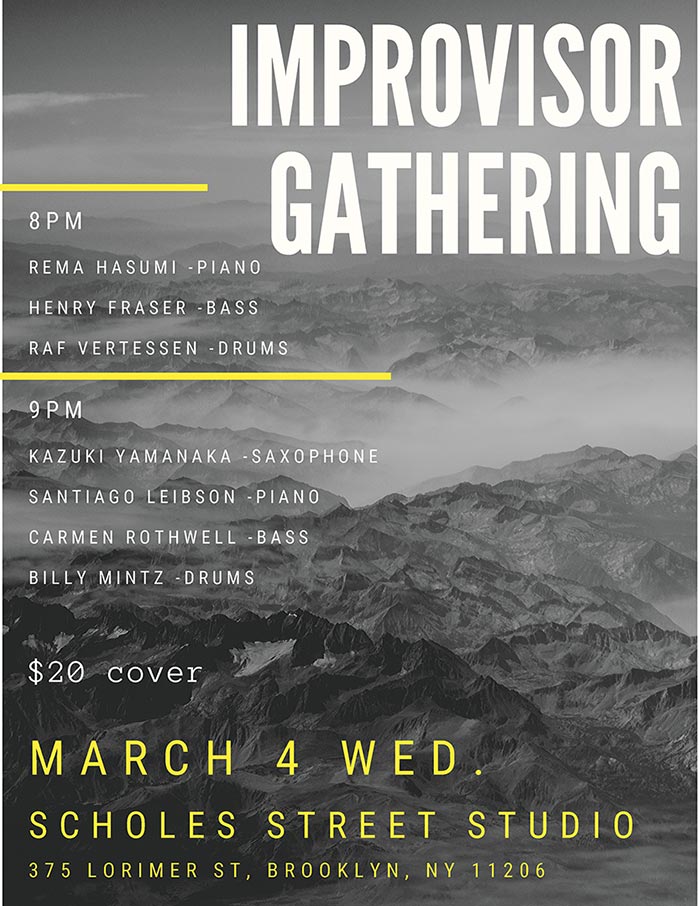 March 4, 8pm
fb event
---

Departure Duo
&
Marina Kifferstein + Meaghan Burke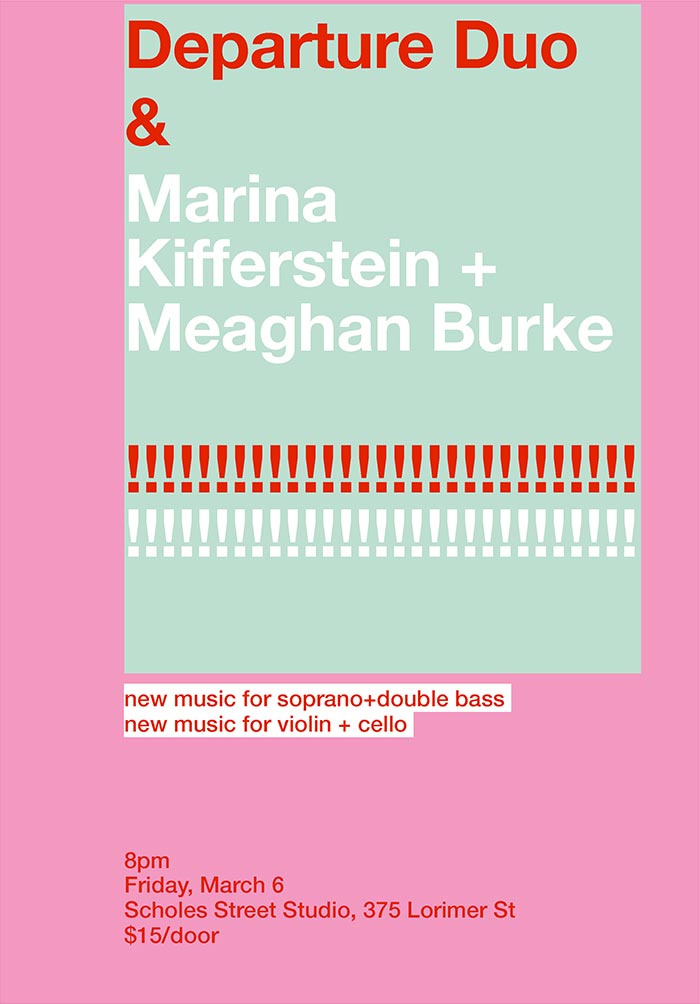 Departure Duo presents a concert of repertoire written especially for soprano and double bass. We are very excited to premiere a new piece by Haukur Þór Harðarson and share some of our new and old(er) favorites from the repertoire.
Come and enjoy an evening in this high/low corner of the musical universe!!
Program:
Pied Beauty - Stephen Dembski
All mute things speak today - Lila Meretzky
Lotófagos - Beat Furrer
Poems for the Fire - Haukur Þór Harðarson with text by Sophie Fetokaki (world premiere!!!)
VULNERR - Dan Lewis
Vidi l'angelo nel marmo - Katherine Balch

Marina Kifferstein (violin) and Meaghan Burke (cello) will present some new pieces that they've been working on together!!

March 6, 8pm
fb event

---

Polyfold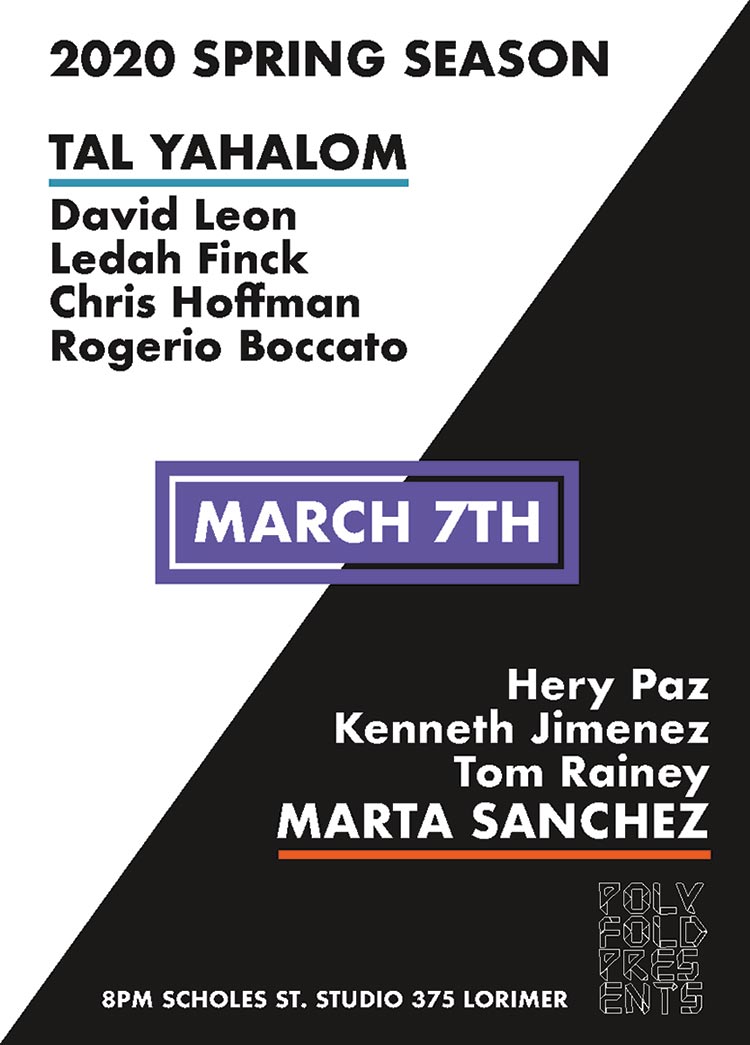 March 7, 8pm
polyfold.org
fb event

---
Triangulate the Landscape
Emitime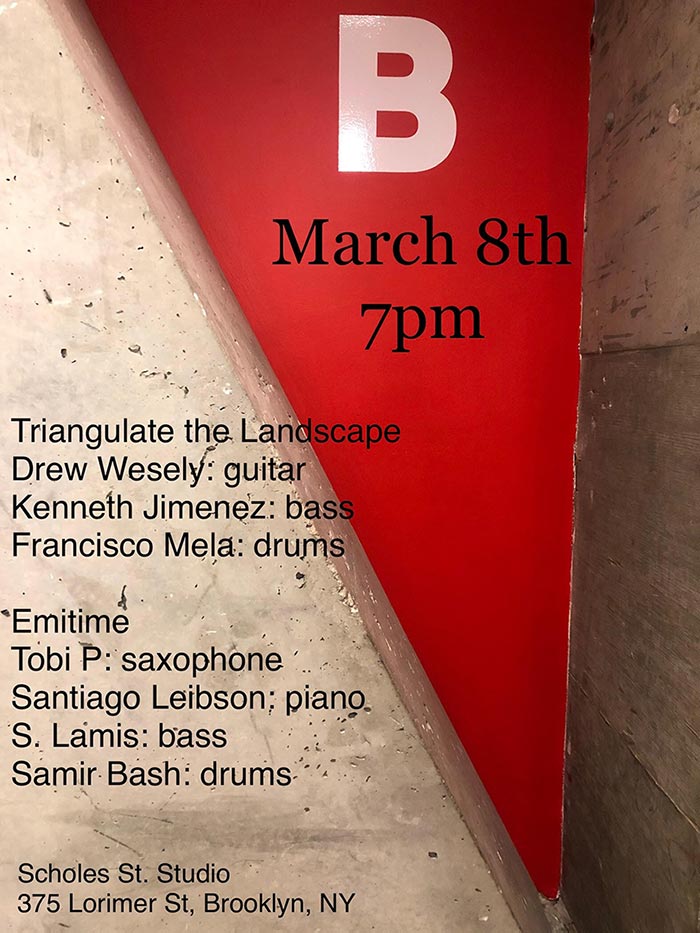 March 8, 7pm
fb event
---
Sarah Bernstein Quartet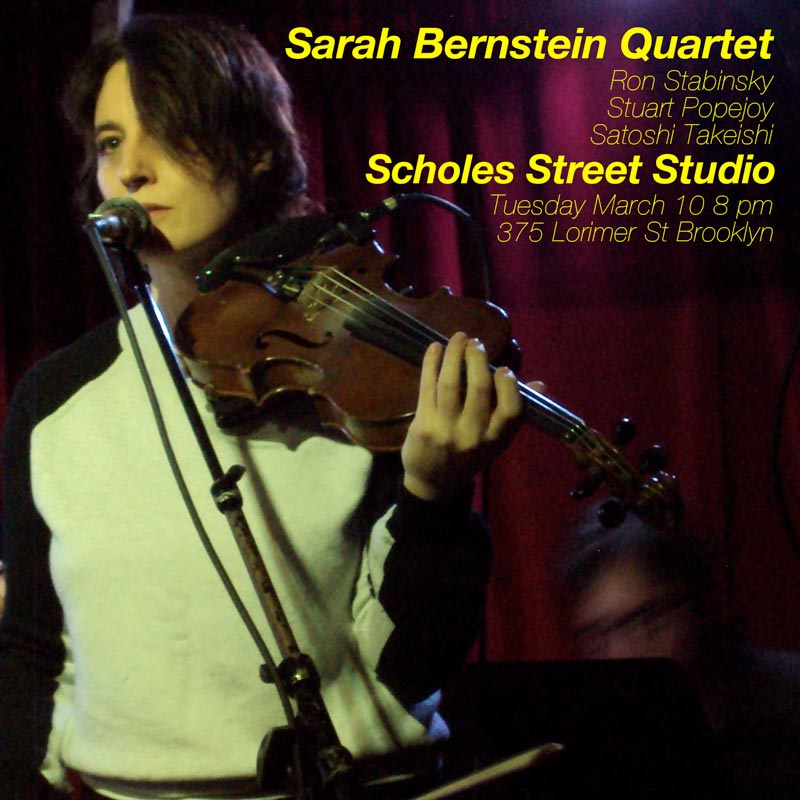 March 10, 8pm
---
Monroe Golden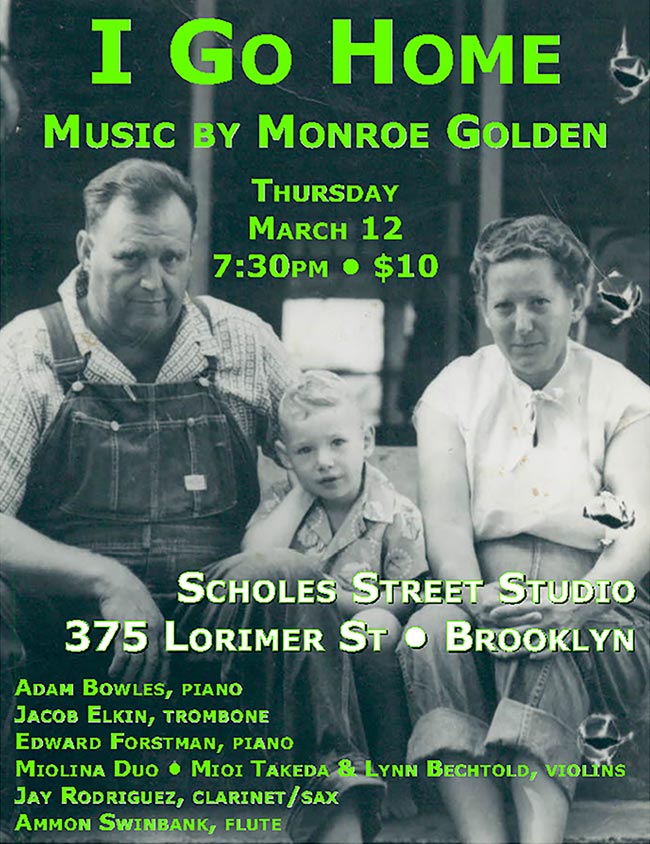 Approaching the end of a five-year residency in NYC, this concert of overtone-informed music — combining acoustic experimentation, proportional structures, and fanciful handiwork — features some of the musicians Monroe Golden has been privileged to work with during that span.
Compositions on the program explore overtone relationships in an equal-tempered context, natural harmonics of microtonally tuned fundamentals, non-systematic derivations from text, extended Just Intonation, and the juxtaposition of tuning and temperament systems with fixed media and controlled pitch drift.
March 12, 7:30pm
This Event is Supported by a Grant from New Music USA
fb event
---
Ras Moshe Music Now!
March 14, 7pm
---
Ryan Messina
March 15, 8pm
---
Simon Hanes and Anthony Coleman
March 19, 8 pm
and
March 20, 8 pm
---
Nancy Kearin Quartet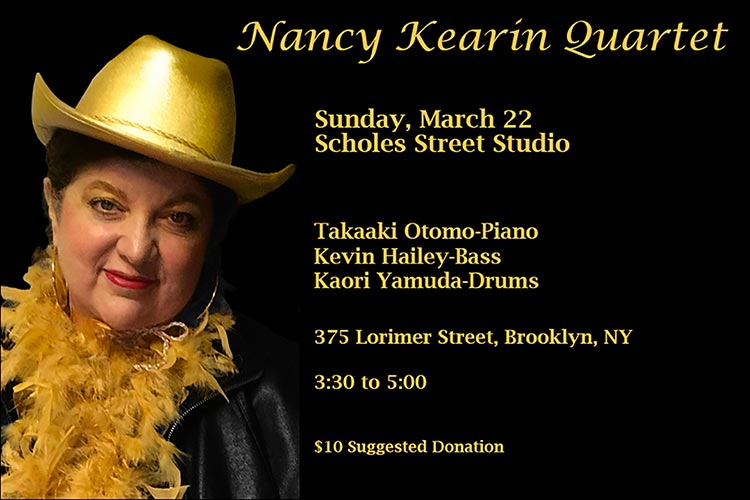 Maarch 22, 3:30pm
---
Nicholas Rousseau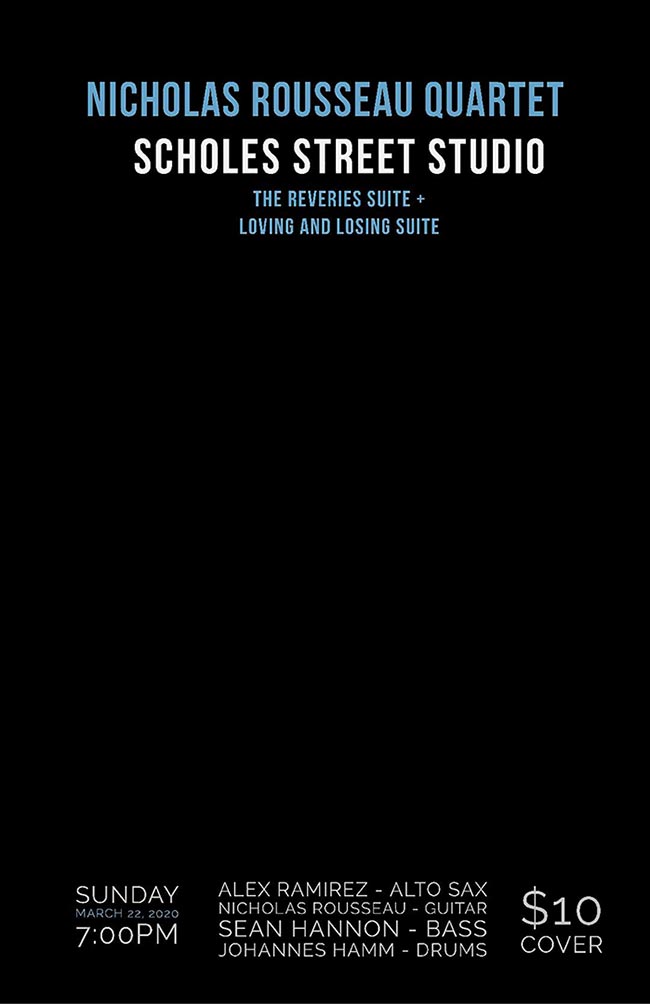 Loving and Losing Suite was written in Boston, MA in 2019, and The Reveries Suite is a newly composed suite based on Jean-Jacques Rousseau's "The Reveries of a Solitary Walker"
March 22, 7pm
fb event
---
Dionysus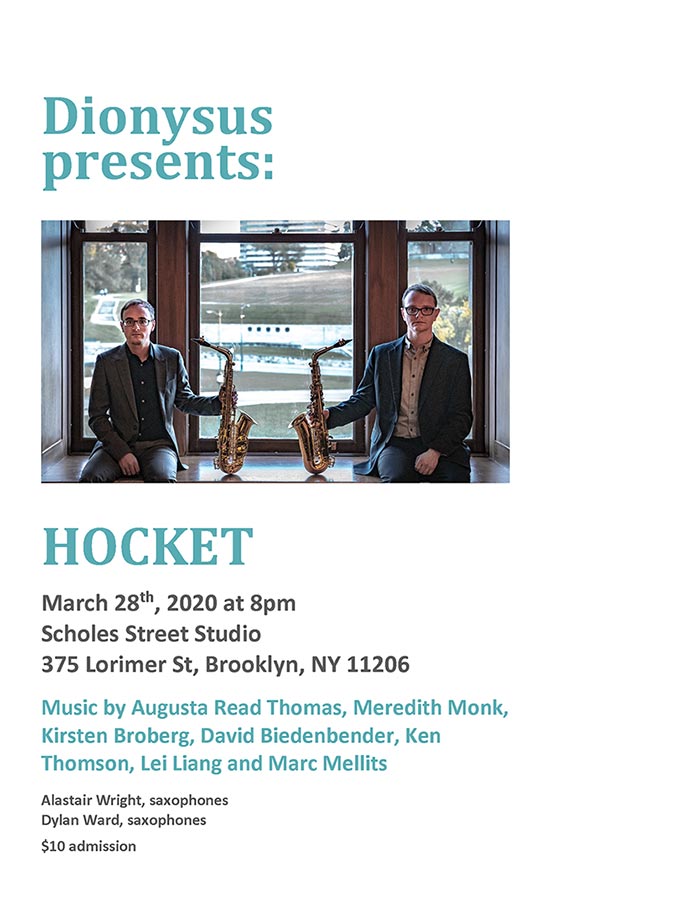 "Hocket" refers to a musical technique originating in the European medieval period, where a single melody is divided between two or more voices and one voice sounds while the other voice rests. This specific technique has seen a resurgence in contemporary American music of the 20th-21st century, particularly in the minimalist and post-minimalist styles. This project seeks to present works by living American composers who incorporate this technique in their work. Music by Augusta Read Thomas, Meredith Monk, Kirsten Broberg, Ken Thomson, David Biedenbender, Lei Liang and Marc Mellits.
March 28, 8pm
fb event
---

Erez Aviram Trio
Shai Portugaly and the Band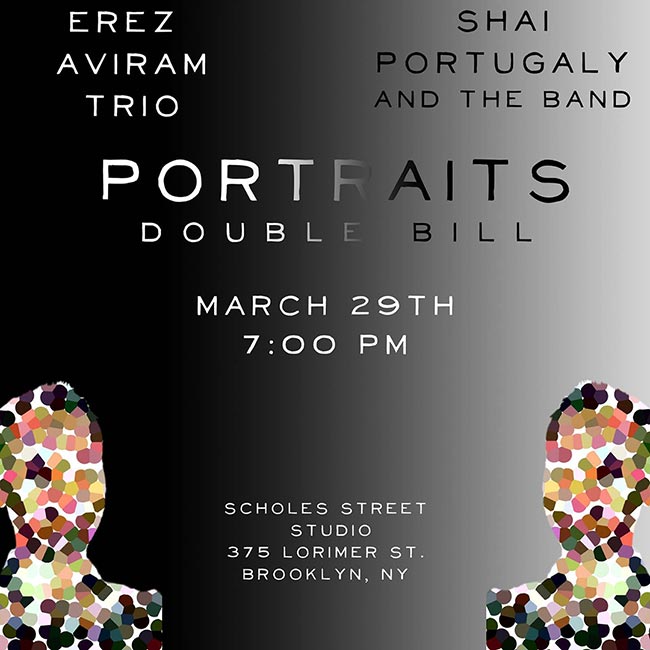 March 29, 7pm
---
Polyfold
polyfold.org
April 4, 8pm
---

Reuben Allen
April 5, 7pm


---

Weston Olencki
April 6, 8pm


---

Justin Lee
April 18, 2pm


---

Ensemble in Process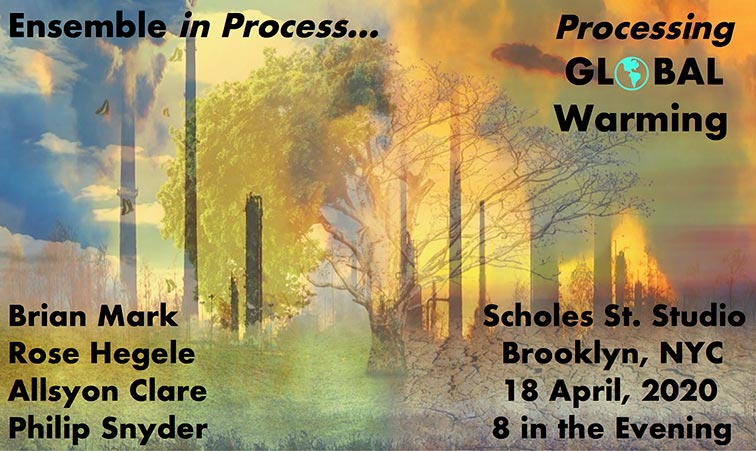 April 18, 8pm


---
Feurige Five
April 19, 3pm
---
Jacob Varmus
April 19, 7pm
---

Otonal Collective
April 25, 7:30pm
---
Isaac Levien
April 26, 7pm
---

Chloe Kim

April 29, 7pm
---

Polyfold
polyfold.org
May 2, 8pm
---
Bowers Fader Duo
May 8, 8pm
---
Polyfold
polyfold.org
June 6, 8pm
---
---
---
SEE PAST EVENTS and NEWS
© 2020 Scholes Street Studio| ALL RIGHTS RESERVED.
ALL IMAGES ARE COPYRIGHTED AND PROTECTED MATERIAL BELONGING TO THEIR ORIGINAL AUTHOR AND
MAY NOT BE REPRODUCED, ADAPTED, OR ALTERED WITHOUT THE PERMISSION OF THE ORIGINAL AUTHOR.