EVENTS AND NEWS
CURRENT ART EXHIBITION

Jacob Cartwright
Harmonic Canon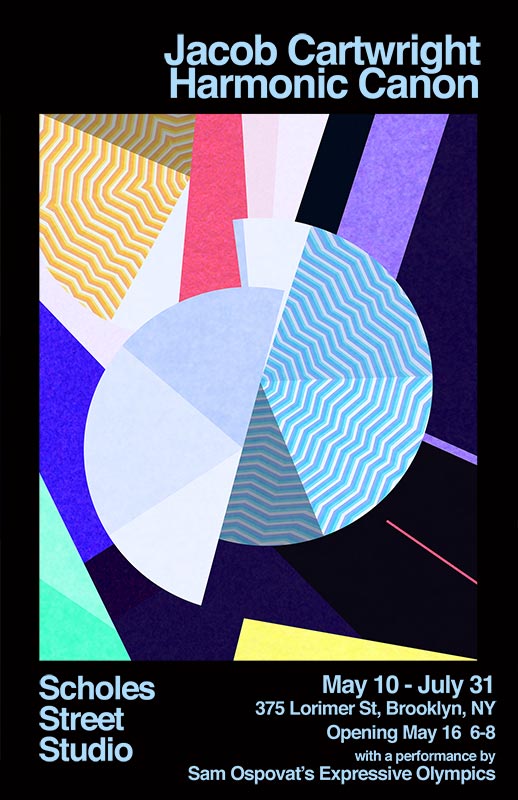 with music by
Sam Ospovat's Expressive Olympics
opening May 16, 6pm
exhibition information
__________________________________________________
Gallery open before and during all concerts and by appointment
---
UPCOMING PERFORMANCES
Apām Napāt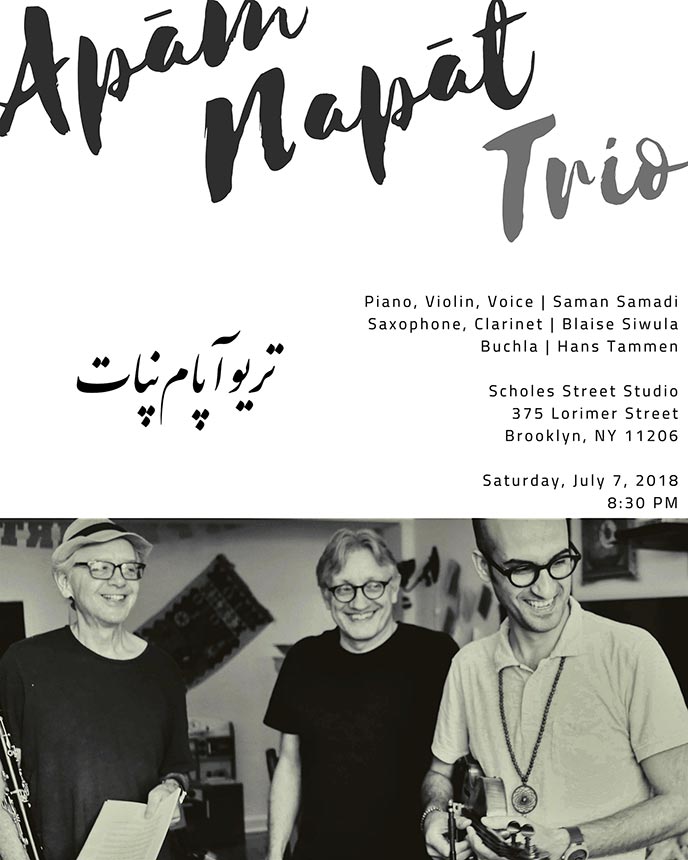 Apām Napāt
(آپام نپات) is a trio by Iranian pianist, violinist and singer
Saman Samad
i, clarinetist and saxophonist
Blaise Siwula
, and buchla-player
Hans Tammen
.
The ensemble presents a set of solos, duos, and trios that draw connections between their musical backgrounds. Using Persian modes and poems as well as a structured and recognizable yet free impulsive interaction between the instruments, they set parallel narratives in motion, occasionally intersecting but always accompanying one another. The trio released their recording Apām Napāt (آپام نپات) in 2016.
Apām Napāt = son of waters, the source of waters, divinity of water, the supreme god of creation
July 7, 8:30pm
---

The Thicket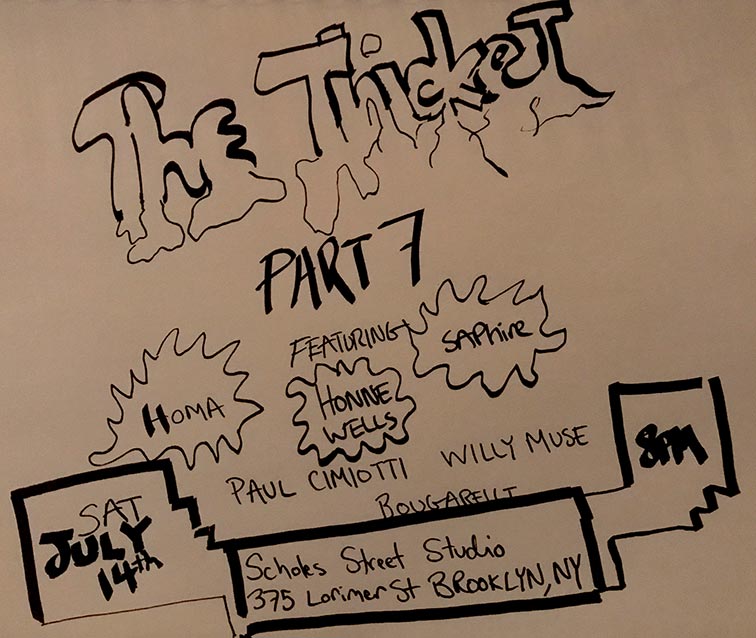 July 14, 8pm
---

Chris DiMeglio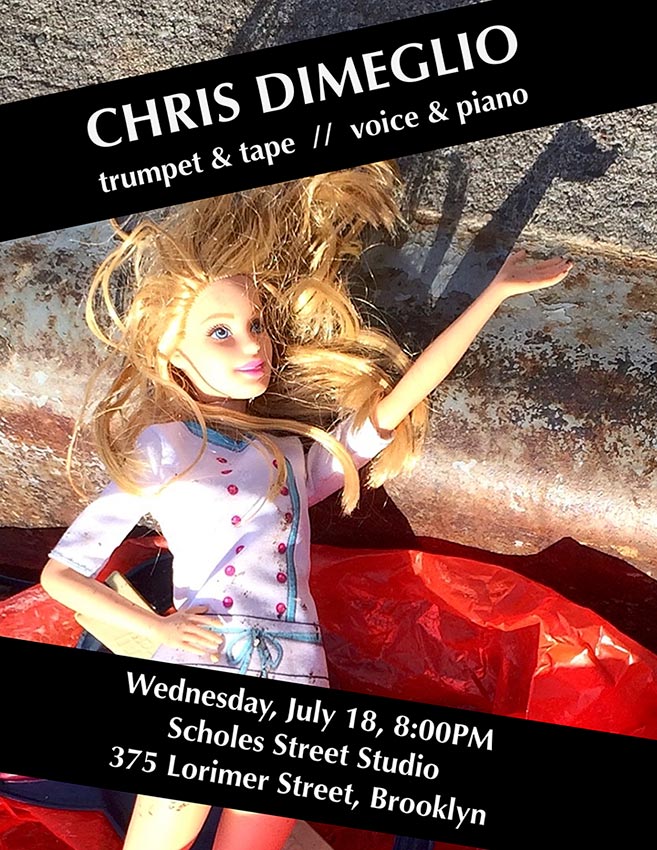 July 18, 8pm
---

Maryanne DeProphetis
and
Dean Johnson
Dori Levine Tio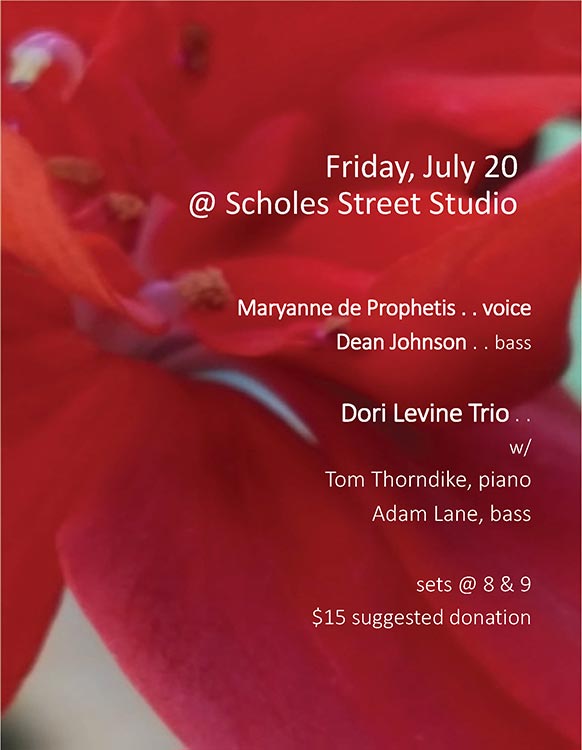 July 20, 7pm
---
Patricia Cardona
(flute) and
Amanda Zook
(piano)

FLAUTA LATINA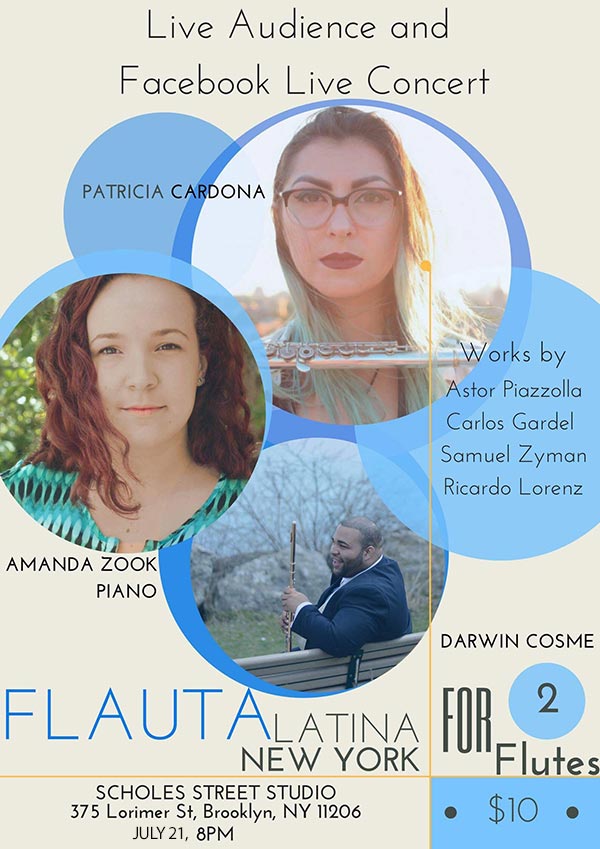 July 21, 8pm
---
British Bridges
July 28, 8pm
---
Anthony Coleman
(piano)
Nick Dunston
(Bass)
August 4, 8pm
---
Ryan Messina
August 25
---
Nick Lyons
September 16, 8pm
---
The Azerbaijan A/V Club
Bushwick Open Studios
September 28, 8pm
---
---
In memory of
Connie Crothers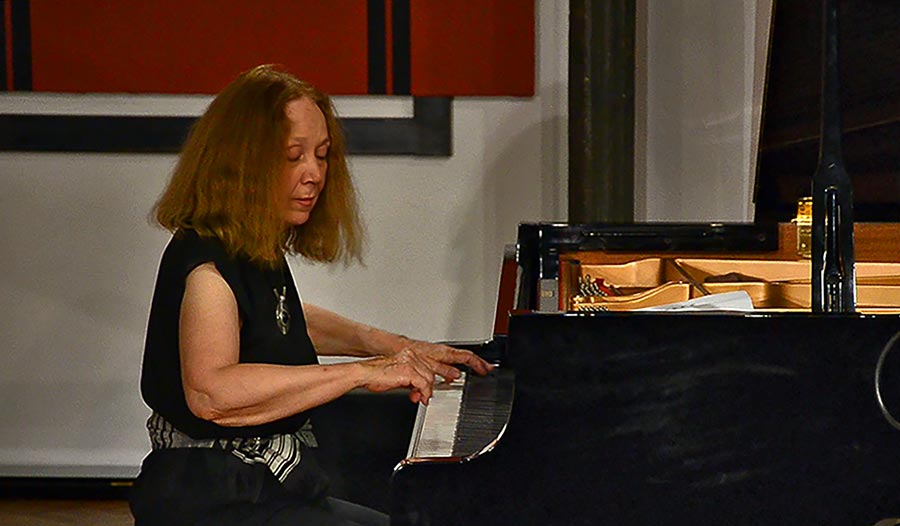 REVIEWS
Secret Opera explores the lives of two famous female characters, uninterrupted
New York Classical Review
She, After at Scholes Street Studio
by George Grella
July 27, 2014
---
Stravinsky or Ska? You Call the Shots
New York Times Review of Shuffle Concert at Scholes Street Studio
by Anand Giridharadas
March 6, 2014
SEE PAST EVENTS and NEWS
© 2018 Scholes Street Studio| ALL RIGHTS RESERVED.
ALL IMAGES ARE COPYRIGHTED AND PROTECTED MATERIAL BELONGING TO THEIR ORIGINAL AUTHOR AND
MAY NOT BE REPRODUCED, ADAPTED, OR ALTERED WITHOUT THE PERMISSION OF THE ORIGINAL AUTHOR.