ART GALLERY
Resonant Art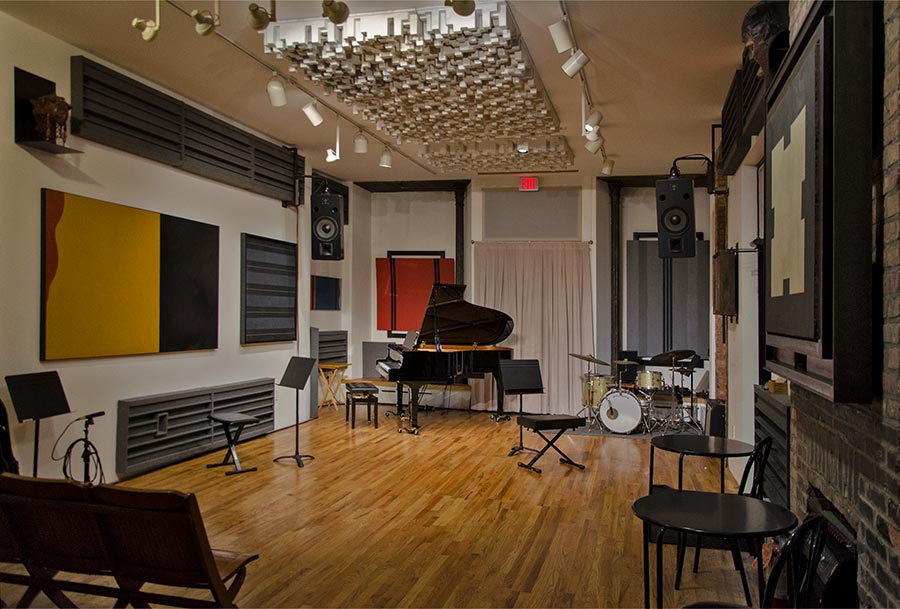 Scholes Street Studio presents exhibitions of art that relates to music or sound. This encompasses art works that engage music directly or make music their subject matter; works inspired or informed by music; or works that simply have a musical or lyrical sensibility.

Scholes Street Studio is a rehearsal, recording and concert space for chamber, classical new, improvised, electronic and jazz music.  In keeping with the musical aesthetic of the studio, the exhibitions presented characteristically have an abstract and experimental sensibility.
Current Exhibition

Tom Kotik
The Architecture of Sound
May 26 - July 30, 2017
Opening Reception June 2, 6-8pm
"In place of musical tones that reach the ear aurally, I compose objects that entice the eye to listen through color and form. The shapes in my work are inspired by the architecture of sound."
exhibition information
_____________________________
The exhibitions can be seen during concert hours or by appointment.
We are usually on premises so call ot text.
718-964-3805
© 2017 Scholes Street Studio| ALL RIGHTS RESERVED.
ALL IMAGES ARE COPYRIGHTED AND PROTECTED MATERIAL BELONGING TO THEIR ORIGINAL AUTHOR AND
MAY NOT BE REPRODUCED, ADAPTED, OR ALTERED WITHOUT THE PERMISSION OF THE ORIGINAL AUTHOR.